Sustainable and stylish fast charging for your devices
Introducing the next generation USB fast charging module incorporating the latest USB-C Power Delivery technology and a world first reversible USB-A port. The PixelTUF allows you to charge your mobile devices at optimum speeds, simultaneously. The UK designed and manufactured PixelTUF features Intelligent Device Recognition (IDR) ensures your device is charged at the optimal level in the shortest time.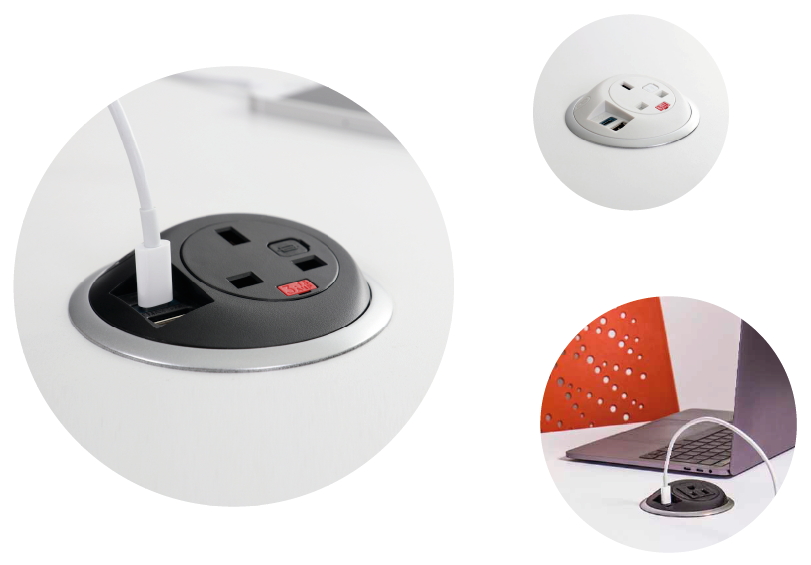 PixelTUF allows powerful charging for your laptop, phone and tablet at the same time.
The PixelTUF simultaneously delivers fast, effective charging and power for three devices. PixelTUF is powerful, giving you optimal charge speeds, adding 20% of battery power in just 10 minutes.
The PixelTUF has a contemporary design in black or white with a silver bezel that fits flush at any angle. Carefully selected, sustainable materials and uncompromising attention to detail make it an effective, fast, hardworking charger that looks great.
Made and designed in the UK
Intelligent device recognition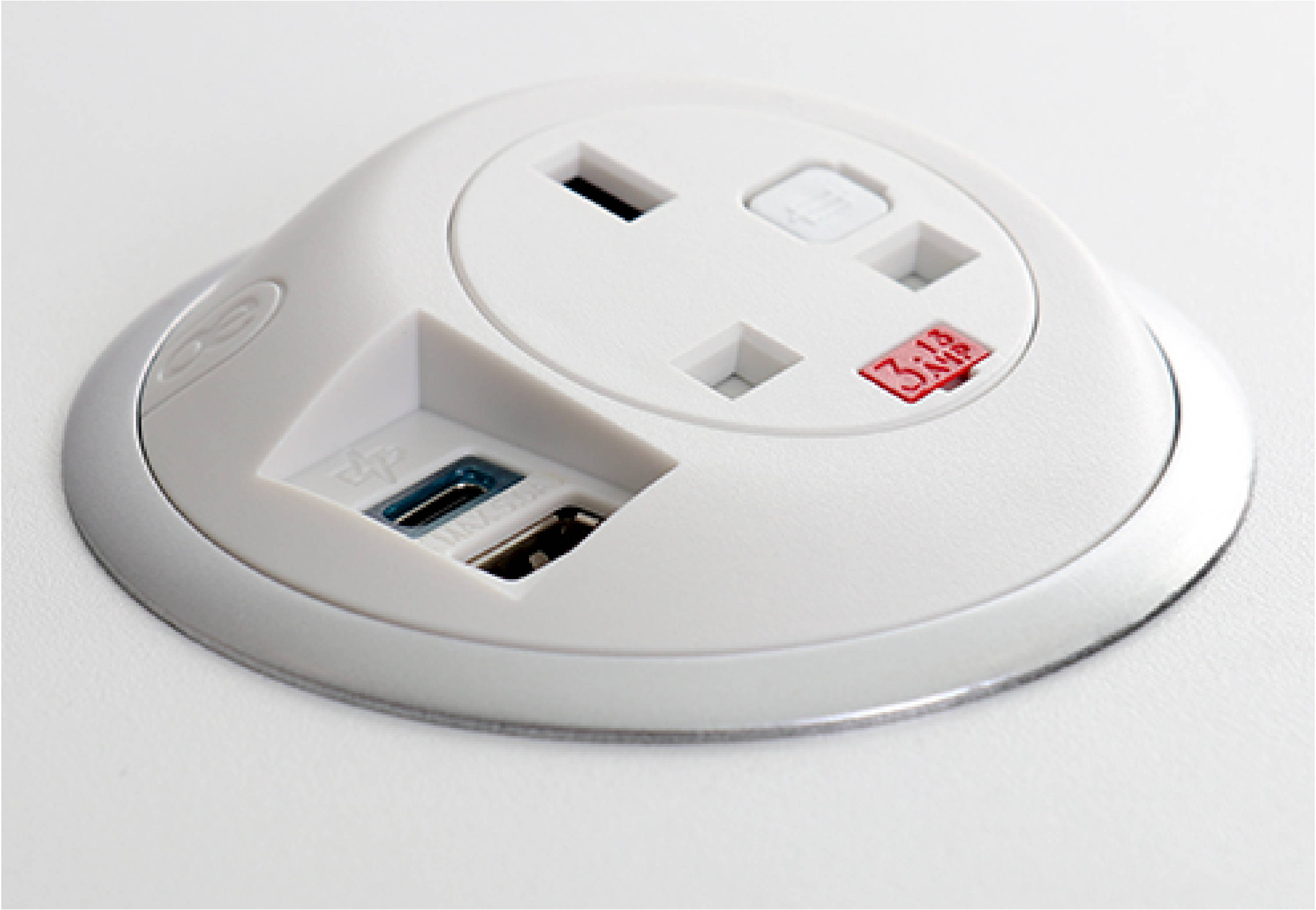 UK 13A Socket fitted with 3.15A fuse
Twin USB-A and USB-C Fast Charger
Fast USB charging of up to two mobile devices
TUF A+C with a maximum combined output of 25W
Intelligent device recognition - it knows what is plugged in and ensures the right level of charging in the shortest time possible
2M Plug Lead fitted with UK 13A Plugtop
Mounts into standard 80mm Ø apertures
UK designed and manufactured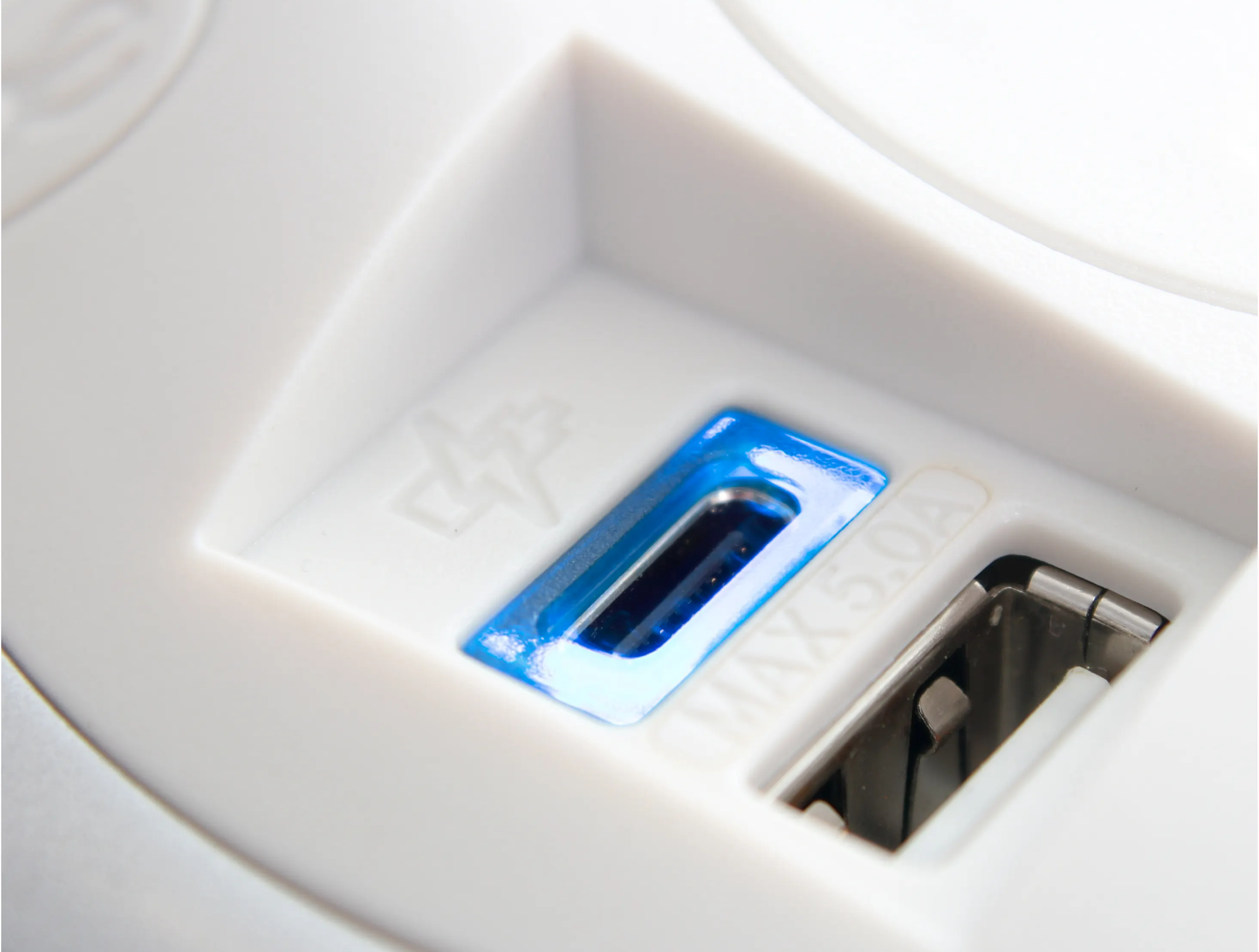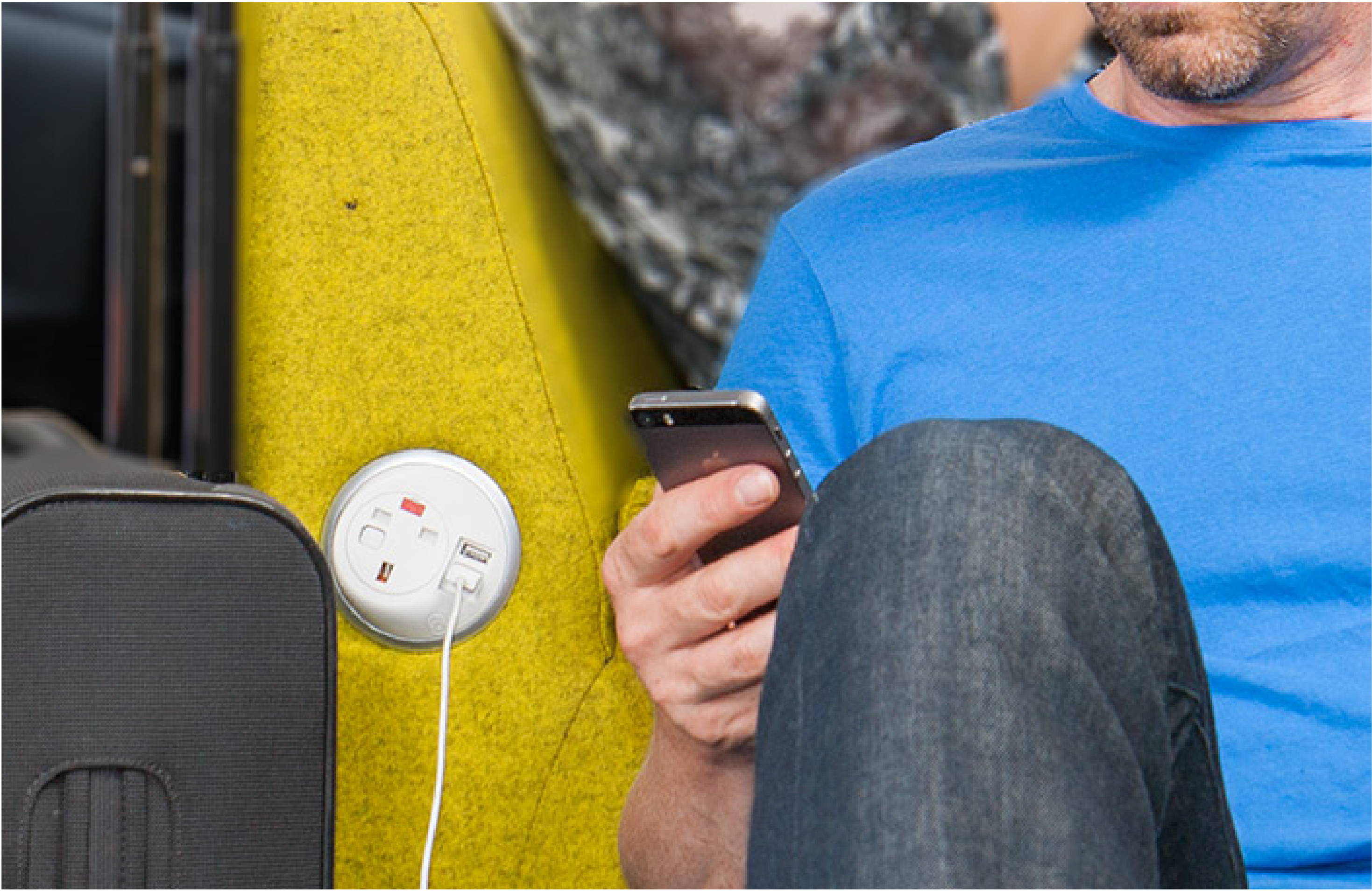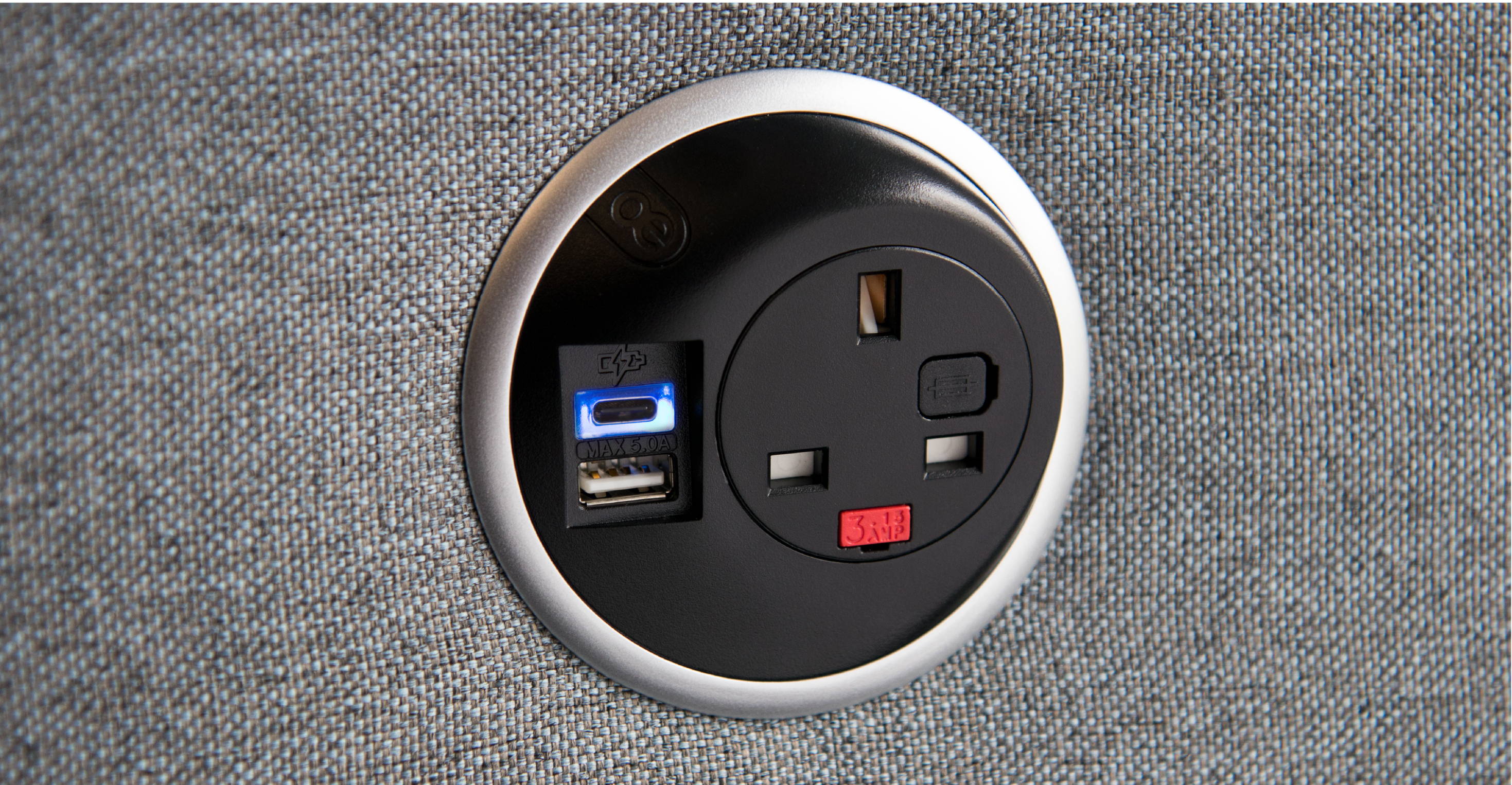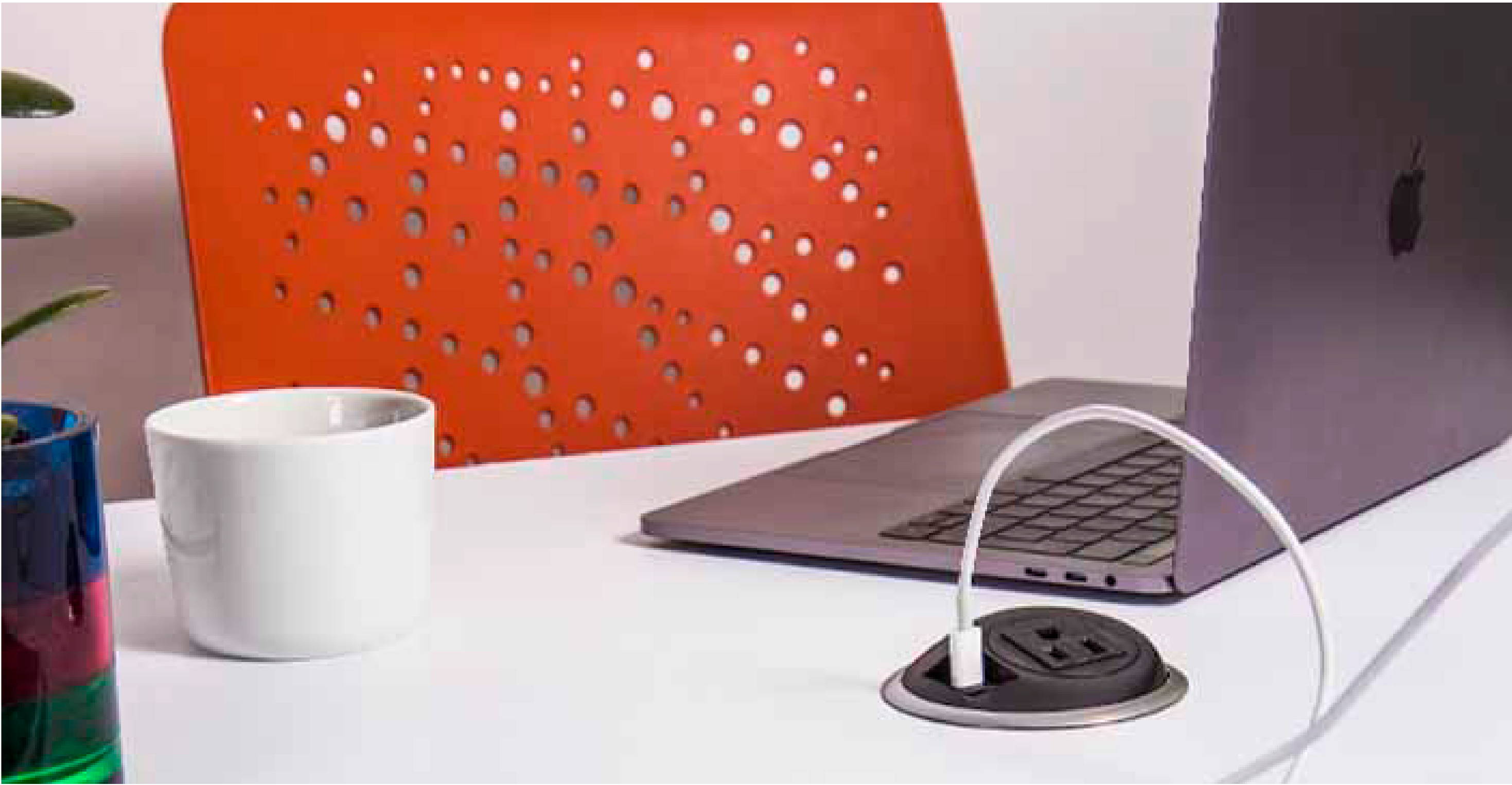 Function and technology with outstanding design
Comfortably sits flush against your wall or furniture
A modern design that matches your interior
Two colour options, black or white with silver bezel
It's easy to mount horizontally or vertically
It fits into a standard 80mm socket with no tools needed
Easy to use, install and move to different locations
Whether at home, the office, the airport or a coffee shop
"Thanks so much for your quick and informative response, today and before. Your instant responses to both phone and email enquiries, your prices (beat Amazon by £350 for this order), and keeping on top of the order/delivery process."
DL, Wigton
"I'm chuffed, I've had a good play around and it all looks brilliant, I've already been testing everything in the house and taking notes"
NT, Cupar
To fit PixelTUF into your desk couldn't be simpler. If your desk already has an industry standard 80mm hole* simply take the fixing nut off your newly purchased PixelTUF, feed the cables through the hole and gently slide your PixelTUF into place. Make sure your PixelTUF is facing the desired orientation and screw the fixing nut back on until it is firmly in place. PixelTUF will fit any surface from 1mm to 40mm.
How long does delivery take?
Delivery within UK Mainland takes two to three working days, sometimes faster.
What is the returns policy on these particular items?
These are stocked products, so these come under our standard returns policy of 14 days from purchase. Refund Policy is here
What is the warranty on this particular product range?
The warranty period on these items is twelve months.
What is the power rating of PixelTUF
The UK 13A Socket has a rating of 3000W, but is fused at a maximum rating of 3.15A, 750W
The PixelTUF A+C has a maximum combined output of 25W
The Type C socket is rated at: 5V/3A, 9V/2.22A, 15V/1.7A, 20V/1.2A (PD3.0)
The Type A socket is arted at: 5V/3A, 9V/2A, 12V/1.5A (QC3.0/QC2.0)
Combined (A+C) the rating is : 5V/4.0A (MAX)
Where is the PixelTUF manufactured?
The PixelTUF is assembled in the UK
We work with trusted, industry leading brands and hand select innovative products we feel lead the way in technology and power.
We take care to select exceptional charging products from trusted manufacturers and source products with proven quality and longevity. 
We pride ourselves on providing convenient charging solutions that open the door to a simpler life.
A sense of independence is key to being happy and getting things done.
It's why doing simple things like untangling our relationship with technology can bring us a surprising amount of joy.
Today, the need to plug in and power up is vital to everyday life, so it's well past time that it fitted in better with our busy lifestyles.
Based in Bristol – recently named the UK's greenest city - we love being at the heart of one of the world's fastest-growing and most exciting sectors: sustainable technology.
Our expertise allows us access to exciting new products, including the latest in sustainable devices, from foldable solar panels and portable chargers to breakthrough technologies, like new sodium-ion batteries that will be coming soon!
Stylish and high-quality charging solutions are the secret to liberating living spaces, building a more creative work environment and breathing life into the outdoors.